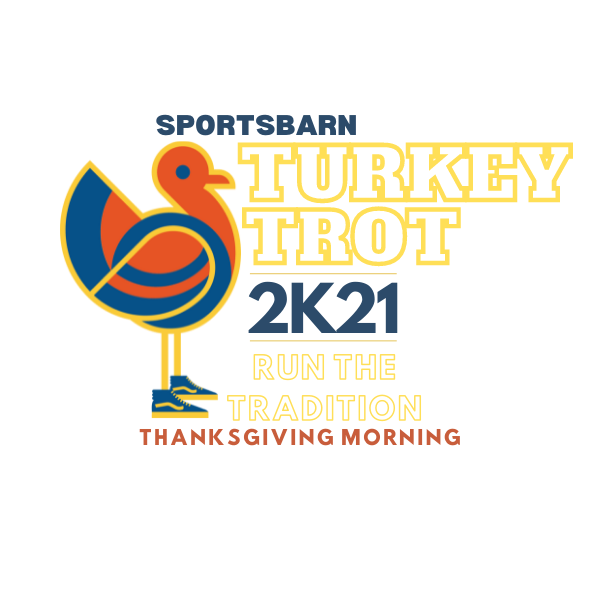 Thursday, November 25, 2021
Sports Barn Turkey Trot 2021

About the Race
Chattanooga's longest standing Thanksgiving road race returns this year at the Sportsbarn East for its 31st running!!
This historic family tradition road race and family walk is hosted by the Chattanooga Track Club, The Kidney Foundation of Greater Chattanooga and Chattanooga's longest standing and most beloved sports club, the Sportsbarn!

We will make adjustments as needed to ensure safety vs. covid - primarily, we are planning on doing packet pickup outdoors vs. indoors. There will also be aid station modifications as we have been doing in our other events to limit person to person interaction (cups on tables for racers to pick up vs. volunteers handing them to racers direclty, for example). Other than those modifications, we are hopeful for all of the full excitement and fun of this long-standing Thanksgiving morning celebration!
Please know that proceeds from our race help promote running and fitness through the Chattanooga Track club and by providing direct support to our local community members who suffer with kidney disease through the efforts of The Kidney Foundation of Greater Chattanooga.
Hosted each year at the SportsBarn East, this event is all about health, and fun, so sign up now and start your Thanksgiving morning with a full-on 8k race and/or a more leisurely 3 mile walk / fun run with your family and your favorite furry four-legger!

Race Events
Kiddie-K begins at 8:30 am. (6/10 of a mile run for 12-under)
3 Mile Walk / Jog begins at 8:45 am
8k Race begins at 9:00 am
Dogs and strollers are welcome in both the 3 mile and 8k events (outside only - no dogs allowed inside the Sportsbarn!). Please do be considerate of other participants and especially be sure and try to not cross paths with returning runners who may be working hard to get their best times or catch that one person ahead of them!
Packet Pickup / On-Site Registration
Wed Nov 27 9:00am - 6:00pm at Sports Barn East - Pre-Registered T-Shirt / Packet Pick Up as well as day-before race registration will be available Wednesday, November 27 from 9am-6pm at Sportsbarn East on Lee Hwy.
Thanksgiving Morning at Sports Barn East

7:00am - 8:15am at Sports Barn East

KK Day of Race Registration / Bib & tShirt Pickup
3Mile Walk / Jog Day Of Race Registration / Bib & tShirt Pickup

7:00am - 8:30am at Sports Barn East

8K Day Of Race Registration / Bib & tShirt Pickup

Location
Sportsbarn East
6148 Lee Hwy
Chattanooga, TN 37421


T-Shirts - Please Read! Need to register by October 25 to guarantee shirt on race day!

The 8k and 5k races will include a long-sleeve race t-shirt. We will likely do short sleeves for the KK participants, as usual, but confirming that over the next week.

Due to supply constraints this year (covid has just made a mess of everything!) please make sure and register by October 25th. It is possible this date may change, if constraints ease up - will update accordingly.

If you register after that, you may choose to opt out if you don't really want a shirt or you can still get the shirt, but it may not arrive until after the event and you will need to pick it up at the CTC offices when the make-up shipment arrives. We do this to ensure we don't over-order on shirts, which only benefits the shirt company and reduces revenues that should stay in our community!

Awards
8K Race

1st Place Top Overall Winners for male and female
1st Place Top Overall Masters Winners for male and female
Age Group Awards - 1st, 2nd & 3rd Place for male and female in the following age groups:

12 and under, 13-15, 16-19, 20-29, 30-39, 40-49, 50-59, 60-69, 70-79, 80+

Kiddie K 1st & 2nd Place for male and female
Maps

Check back here from time to time - I will update this page with more information as the event gets closer.
If you have questions you want answered sooner, please use the form under the "Ask A Question" tab above or address an email to "turkeyTrot" at ChattanoogaTrackClub.org (using typical email address format: address@chattanoogaTrackclub.org)*
Bill Brock
Race Director
2019 Sportsbarn Turkey Trot
*Spammers are the bane of internet existance. Whenever you can avoid it, do not put a real email address on a web page. It will get "scraped" by software 'robots' and you'll start getting millions (ok, lots) of stupid emails from seriously inconsiderate human beings who ought to do something a lot better with their lives. Just sayin'.
35 days left to register
Start times:
09:00 AM - 8k
08:45 AM - 3 Mile Walk / Jog
08:30 AM - Kiddie-K
Race director: Bill Brock
Location: Sports Barn East 6148 Lee Hwy, Chattanooga, TN, 37421
---
Event Schedule
Thursday, November 25
07:00 AM - 08:15 AM - 3 Mile and KK Registration, Bib and T-Shirt Pickup at Sports Barn East on Lee Hwy.
07:00 AM - 08:30 AM - 8K Race Registration, Bib and T-Shirt Pickup at Sports Barn East on Lee Hwy.
08:30 AM - 09:00 AM - Kiddie-K
08:45 AM - 10:15 AM - 3 Mile Walk / Jog
09:00 AM - 10:30 AM - 8k
---
Events & Pricing
8k - Individual
$38.00 ($44.00 in 27 days)
3 Mile Walk / Jog - Individual
$28.00 ($32.00 in 27 days)
Kiddie-K - Individual
$6.00 ($8.00 in 37 days)