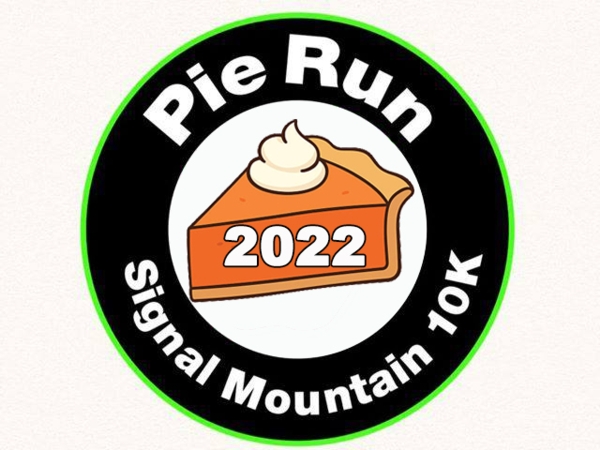 Saturday, October 22, 2022
2022 Signal Mountain Pie Run
AWESOME SUNRISE VIEWS, MEMORABLE HILLS, MUSIC, AND A PUMPKIN PIE WAITING FOR YOU AT THE FINISH!
The Signal Mountain Pie Run is a certified, 10K run. Race starts and finishes at the Signal Mountain Pruett's, 1210 Taft Highway, Signal Mountain, TN. A beautiful, rolling course with 2 significant hills. Beautiful views over East Brow Road. 10K course USATF certification number - TN21050MS Check out the 2021 Pictures ~ Oh My Goodness. Free downloads of Professional Photos! Who loves Ya Baby? Facebook ~ Tennessee Sport Pics Album 2021 Pie Run
PARKING SUGGESTIONS: Follow parking signs and volunteers. Parking at the LDS Church and at the Regions Bank lot. Please leave 2 front rows open in front of Pruett's. In the course map section: "New this year, mile markers (all 6) will be in position this year."
AWARDS
Pumpkin pie and Finish-line festival for all finishers! BUT ~ racers MUST register by Midnight SUNDAY, OCTOBER 16th to be assured their pie!! NEW POST: MONDAY A.M. PIES ARE ORDERED. SEE BELOW.......
On Line Registration Closes OCTOBER 20TH at 11:59 p.m. But! You can still register, at Packet Pickup on Friday 10/21 at the CTC office and on Race Morning 7:00 - 7:30 a.m. at Pruett's Market, Signal Mountain.
Trophies will be awarded to Top 1 M/F: Overall, Master, Grand Master, and Senior Grand Master.
NOTE: Overall awards are based on Gun Time. Masters, Grand Masters, and Senior Grand Masters awards are based on Net (Chip) Time.
NEW IN 2022! NEW IN 2022!
"ALSO NEW THIS YEAR ~ $50 to each top female and male finisher in the Overall, Masters, Grand Masters, and Senior Grand Masters categories!!"
NOTE: Overall awards are based on Gun Time. Masters, Grand Masters, and Senior Grand Masters awards are based on Net (Chip) Time.
Age Group Awards IN 5 YEAR GROUPINGS
1st - 3rd Place in the following categories: 14 and under, 15-19, 20-24, 25-29, 30-34, 35-39, 40-44, 45-49, 50-54, 55-59, 60-64, 65-69, 70-74, 75 and over.
NOTE: Age Group awards are based on Net (Chip) Time .
NOTE: Awards will not be mailed. If you are unable to stay for the awards ceremony please arrange for a family member or friend to collect your award.
PREDICTION CONTEST
Special added twist no other local race does!!! Your prediction must be clearly marked on your race application. $50, $30, and $20 will be awarded to 1st, 2nd, 3rd runners with closest predicted finish time! To qualify for the prize money, finishing time must be less than 70 minutes. This is not required... you can skip this on your race registration. It's a fun tradition for this race. Quirky = F.U.N.
DOOR PRIZES - MUST BE PRESENT TO WIN.
For our runners and VOLUNTEERS: We are NOT providing shirts this year. We ARE offering Pumpkin Pies to EVERYONE who enters by October 16th. Also, we are adding a Post Race Festival at Pruett's Market on Signal! We have enhanced the sponsorship and there will be great door prizes ~ and the Volunteers names will go into the drawing! XO
Location:
Directions: Starts and finishes at Pruett's Market back porch, 1210 Taft Highway, Signal Mountain, TN 37377. A beautiful rolling 10K course with sunrise views of the valley from East Brow Road. Music, post race refreshments and your pie await your finish. USATF Certified Course # TN21050MS. Directions: Take Route 27 to the Signal Mountain Exit. Follow Signal Mountain Road (127N) up the mountain 1.45 miles past the traffic light on Signal, the registration and start/finish is at Pruett's Market. As you approach Hampton and Taft, follow parking direction guidance from signs and volunteers. Please keep the front two rows open in front of Pruett's. Parking ~ in the LDS Church and Regions Bank lots.
Pruett's Market will host the finish line experience festival with music, post race refreshments and your pumpkin pie. Also, beer is available to purchase with your I.D. Also, yummy food is available for purchase also. Enjoy the outdoor fireplace!
SPONSORS
Sponsored by The Chattanooga Track Club, Davis and Hoss, Doug Torrance, DDS, Coca Cola, PRUETT'S MARKET, Travis Close Homes, Brewhaus, Hart & Hive, and AD TECH CERAMICS. Also supporting our race - Waldens Ridge Emergency Service and the communities of Signal Mountain and Waldens Ridge.
Event details and schedule
Packet Pickup: Friday, October 21, 2022 Chattanooga Track Club Office, 1014 Dallas Road, Suite 101, Chattanooga, Tn 37405 4:00-6:30 p.m. Registration is available during this window for $30.00.
Race Day ~ Saturday, October 22, 2022
7:00 A.M. Day of race packet pickup and registration. Day of registration for new entries ($30) closes at 7:30 a.m. sharp.
Race begins at 8:00 A.M.
Race Results will be posted at www.chattanoogatrackclub.org
ABOUT THE CHATTANOOGA TRACK CLUB
The Chattanooga Track Club (CTC) is a nonprofit, 501c3 organization founded in 1970. The CTC is a membership based organization dedicated to stimulating interest in running and fitness for all ages and promoting wellness through these activities. We encourage anyone with similar interests to become a member and support our goals. No special qualifications, other than an interest in running and fitness, are required. Members can choose their own level of involvement: participant, volunteer, or sponsor. Everyone, from serious competitor to the casual walker, is welcome. To learn more or become a CTC member visit: www.runctc.org
*** CTC has a no refund policy. This is due to Planning, Purchasing, Ordering all necessary materials and services for a race of this size. We are sorry if circumstances prevent you from participating after you have registered on-line. Please contact the race director if you would like to DEFER your entry to 2023. Thank you for understanding ***