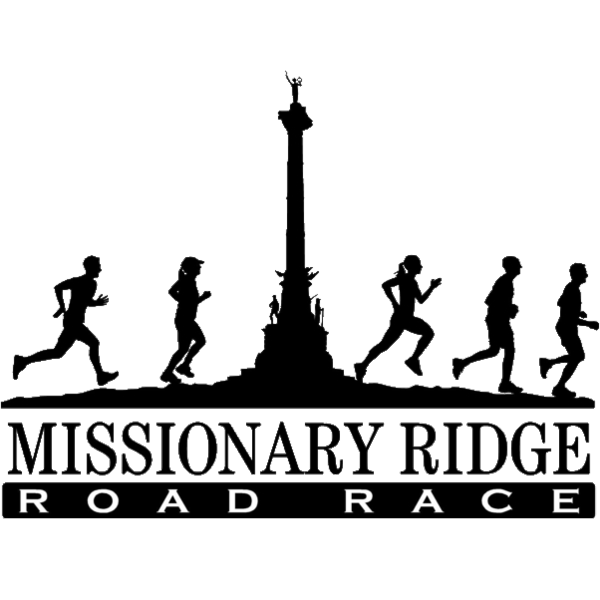 Saturday, August 07, 2021
Missionary Ridge Road Race
Join us for the 48th running of the Missionary Ridge Road Race!
4.7 mile road race and one mile fun run starting and finishing at Bragg Reservation on beautiful Missionary Ridge. Experience stunning views of Chattanooga and Lookout Mountain as you run through the historic neighborhood of Missionary Ridge.
Parking will be at McCallie School (500 Dodds Ave, Chattanooga) starting at 6:00 a.m. A short 5 minute shuttle ride will bring you to the start/finish area at Bragg Reservation. Shuttles will run from 6:00 a.m. until the event concludes. Restrooms will be available at McCallie with portables at Bragg. There is no parking at Bragg Reservation!!
OPTIONAL / EARLY PACKET PICK UP:
Stop by FrontRunner Athletics from 4:00PM to 6:30PM on Friday August 6th to grab your race bib & t-shirt. We will also be taking walk up registrations at Front Runner. Please help out our volunteers by signing up early!
Race day registration and packet pick up will be available at Bragg Reservation from 6:30 a.m. until 7:30 a.m. We will have a race day bag drop area available.
The 4.7 mile main event will start promptly at 8:00 a.m. The one mile fun run will start at 8:05 a.m.
Cash Awards for the top 3 overall male and female!
1st place- $100 2nd place- $60 3rd place- $30
Awards for 1st overall male and female Master, Grand Master and Senior Grand Master
Awards for top 3 male and female in the following age groups- 14 & under, 15-19, 20-24, 25-29, 30-34, 35-39, 40-44, 45-49, 50-54, 55-59, 60-64, 65-69, 70 & up
Special Arnold Godwin award for the oldest finisher!
Awards ceremony will begin promptly after the last runner crosses the finish line, usually around 9:30 a.m.
Snacks and drinks will be available for participants at the finish area. We will have one self-serve hydration station on the course which runners will pass twice (once going out and once coming back).
Special t-shirts will be given to all participants unless you opt out. We will be placing the shirt order on July 29th. If you register after that date, we cannot guarantee all sizes will be available. We will not be ordering any more shirts after the deadline.
We will take enhanced health and safety measures for you, our volunteers, race partners and spectators. You are expected to follow all posted instructions and race communications will attending the Missionary Ridge Road Race.
An inherent risk of exposure to Covid-19 exists in any public space where people are present. Covid-19 is an extremely contagious disease that can lead to severe illness and death. According to the Centers for Disease Control and Prevention, senior citizens and guests with underlying mediacl conditions area especially vulnerable.
By attending the Missionary Ridge Road Race, you voluntarily assume all risks related to exposure to Covid-19.
Start times:
08:00 AM - Missionary Ridge Road Race
Race director: Ryan Shrum
Location: 169 South Crest Road, Chattanooga, TN, 37412
Website: Click here
---
Event Schedule
Friday, August 06
04:00 PM - 06:30 PM - Optional Early Packet Pick Up: Front Runner Athletics - 4251 Hixson Pike
Saturday, August 07
06:00 AM - Shuttle service from McCallie School begins
06:30 AM - 07:45 AM - Race day registration and packet pick up at Bragg Reservation
08:00 AM - 4.7 mile race starts
08:00 AM - 11:00 AM - Missionary Ridge Road Race
08:05 AM - One mile fun run starts
09:30 AM - Awards ceremony will begin as soon as the last runner crosses the finish line
---
Events & Pricing
Missionary Ridge Road Race - 18 and over
$35.00
Missionary Ridge Road Race - 17 and under
$20.00
Missionary Ridge Road Race - one mile fun run
$15.00